FIBERI - Fisch(erei) Beratung Ritter 2022
---
Alle nicht-pflichtigen Inhalte dieser Internet-Präsenz sind unverbindlich und ohne Gewähr!  (
weitere INFO!
)
Fish Nutrition in Practice (Biarritz, 1991/1993)
Kaushik, S.J. & Luquet, P. (Eds.)
Fish Nutrition in Practice
Les Colloques No. 61, INRA Paris, 1993
Biarritz (France), June 24-27, 1991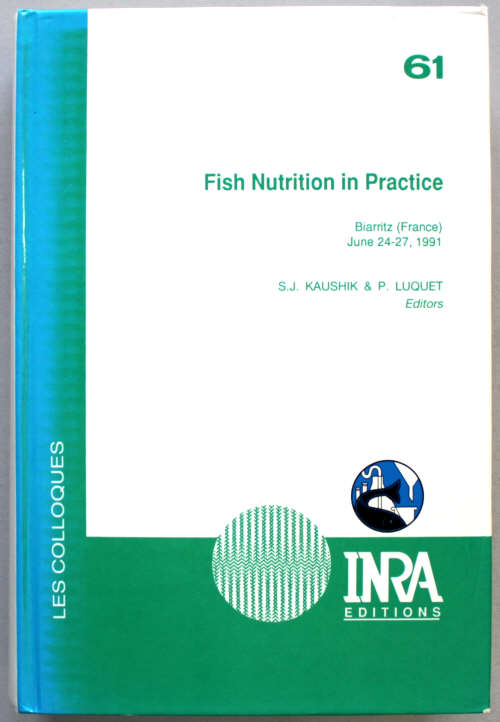 Ein 972-seitiger Tagungsband mit vielen fundierten Informationen zur praxisorientierten Fischernährung, bzw. Fütterung, grundsätzlich in englischer aber teilweise auch in französischer Ausführung!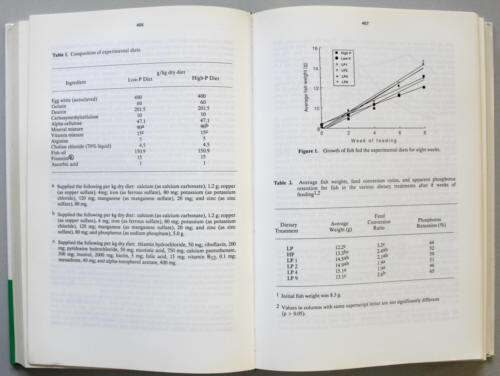 INHALT:
PREFACE (15)
NUTRITION AND BROODSTOCK MANAGEMENT
Genotypes and nutrient utilization (19)
Astaxanthin : an effective dietary component for red seabream broodstock (27)
Relationship hetween growth and utilization of energy substrates in three rainhow trout strains (37)
The influence of both rearing temperature and dietary lipid origin on fatty acid composition of spermatozoan polar lipids in rainbow trout (Oncorhynchus mykiss) : Effect on sperm cryopreservation tolerance (49)
Effect of temperature and of dietary lipid source on female broodstock performance and fatty acid composition oI the eggs of rainhow trout (61)
Differences in growth rate and fat deposition in three strains of rainbow trout (67)
Sex influences on glucose utilization in the mature sea bass (Dicentrarchus labrax L.) (73)
Dietary and sex influences on fructose 1,6 bisphosphatase kinetics in sea bass breeding season (79)
Individual variation in consumption in rainbow trout measured using radiography (85)
Effect of dietary protein levels in diets for turbot (Scophthalmus maximus L.) to market size (89)
CONCLUDING REMARKS (97)
NUTRITION AND HEALTH

Role of micronutrients in immune response and disease resistance in fish (101)
Dietary protein related humoral immune response and disease resistance of rainbow trout (Oncorhynchus mykiss) (119)
Carbohydrate utilization and its impact on some metabolic and histological parameters in white sturgeon (127)
Efficacy of L-ascorbyl-2-sulfate as a vitamin C source for rainbow trout (137)
Utilization of monophosphate esters of ascorbic acid by rainbow trout (Oncorhynchus mykiss) (149)
L-ascorbyl-2-phosphate-Mg as vitamin C source for the Japanese flounder (Paralichthys olivaceus) (157)
Vitamin nutrition and fish immunity : influence of antioxidant vitamins (C and E) on immune response of rainbow trout (167)
Dietary calcium source and level affect growth and bone mineralization of Channel catfish (179)
Relationship between feeding, hypoxia, digestibility and experimentally induced furunculosis in rainbow trout (187)
The utilization of two commercial vitamin C polyphosphates by atlantic salmon (199)
The effect of different dietary levels of vitamins C and E on their tissue levels in the Atlantic salmon, Salmo salar L. (203)
Effect of a non-specific stressor on the symptoms of ascorbic acid deficiency in turbot (Scophthalmus maximus) (209)
Interactions between dietary alpha-tocopherol and oxidized oil on sea bass Dicentrarchus labrax (215)
Trypsin inhibitors in commercial fish food (219)
CONCLUDING REMARKS (223)
NUTRITION, METABOLISM AND GROWTH
Some effects of nutrition on flesh quality of cultured fish (227)
Optimum ratio of medium chain triglycerides to pollack liver oil in diets on lipid accumulation of ayu, Plecoglossus altivelis (Pisces) (237)
Gill lipid metabolism in pantothenic acid-deficient rainbow trout (Oncorhynchus mykiss) (247)
Effect of dietary lipids on tissue fatty acid composition of gilthead bream (Sparus aurata) (257)
Diel rhythm of food-demand, liver weight and glycogen content and plasma hormonal concentration in Oncorhynchus mykiss held in different photoperiod regimes (269)
Relationship between appetite and plasma thyroid and growth hormone and metabolite concentration in rainbow trout, Oncorhynchus mykiss (279)
Effect of frequency of feeding of diets with different protein content on the fractional rate of protein synthesis and degradation in liver and muscle of rainbow trout (Oncorhynchus mykiss) (287)
Size and meal timing : effect on body composition in rainbow trout (293)
Meal timing and feeding level : effect on performances in rainbow trout (297)
The effect of high temperature and dietary protein level on metabolic utilization of diets by rainbow trout (301)
Variations quantitatives des protéines, lipides et cendres somatiques chez le gardon capturé, a différentes Saisons dans une retenue mésotrophe (307)
Teneur en acides aminés du soma, à differentes saisons, chez deux espèces sauvages : la perche (Perca fluviatilis) et le gardon (Rutilus rutilus) (313)
Neutral amino acid transport by intestinal brush border vesicles of a marine fish : Dicentrarchus labrax. Role of the side chain (319)
Intermediary metabolism response of the European eel to dietary protein to lipids ratio (327)
Effect of long-term starvation on the NADPH production systems in several different tissues of rainbow trout (Oncorhynchus mykiss) (333)
Effects of polyunsaturated fatty acids and vitamin E on flesh pigmentation in Atlantic salmon (Salmo salar) (339)
Interrelationship between astaxanthin and vitamin A in Atlantic salmon (345)
Carotenoids in mature female rainbow trout : absorption and blood clearance (349)
Transport of canthaxanthin in the serum of immature rainbow trout (355)
CONCLUDING REMARKS (361)

NUTRITION AND WASTE MANAGEMENT
Digestibility of feedstuffs as a major factor in aquaculture waste management (365)
Energy and nitrogen balance studies in fish (375)
High energy diets for Atlantic salmon. Effects on pollution (391)
Periodic feeding of low-phosphorus diet and phosphorus retention in rainbow trout (Oncorhynchus mykiss) (403)
Self-selection of a diet covering zinc needs in the trout (413)
Effect of attractants on feed choice of rainbow trout, Oncorhynchus mykiss (419)
Incorporation de quelques probiotiques dans l'alimentation du juvénile de bar (Dicentrarchus labrax) (429)
Effect of virginiamycin and related factors on the growth, body composition and plasma growth hormone levels of rainbow trout (433)
Application of a settling column system to studies of digestibility in the eel (437)
Comparison of fecal collection methods for determining phosphorus absorption in rainbow trout (443)
Influence of different binders on dietary availability of nutrients in rainbow trout (449)
Studies on the use of dietary energy by gilthead seabream (Sparus aurata L.) juveniles (453)
Effect of dietary protein to lipid ratio on growth and chemical composition of chinook salmon (Oncorhynchus tshawytscha) in sea water (459)
Freshwater fish as a source of w3 polyunsaturated fatty acids and their application to human nutrition (469)
lnfluence of different carbohydrates on digestibility, growth and carcass composition of carp (Cyprinus carpio L.) (475)
Growth and body composition of turbot (Scophthalmus maximus L.) in relation to different lipid/protein ratios in the diet (479)
Effect of dietary protein, carbohydrate and fat levels in dry feed for juvenile Halibut (Hippoglossus hippoglossus L.) (493)
Use of extruded diets in intensive trout culture : effects of protein to energy ratios on growth, nutrient utilization and on flesh and water quality (497)
Effects of body weight on diet requirements of turbot (Scophthalmus maximus) with special reference to feed intake and body composition (501)
CONCLUDING REMARKS (515)
LARVAL AND CRUSTACEAN NUTRITION
Essential phospholipids of fish and crustaceans (519)
Biochemical aspects of the early life history of yellow perch (Perca flavescens) (531)
Effet de l'huile de foie de morue sur la survie et la croissance des larves de cyprinidés (Carassius auratus L., Cyprinus carpio L.) (541)
Supplementation of artificial diets for coregonid larvae (551)
Bacillus Sp. spores as food additive for the rotifer Brachionus Plicatilis : improvement of their bacterial environment and their dietary value for larval Turbot, Scophthalmus Maximus L. (561)
The effect of dietary enzymes with age on protein and lipid assimilation and deposition in Sparus aurata larvae (569)
Feeding responses and chemotaxis in marine fish larvae (579)
The effect of n-3 highly unsaturated fatty acid and vitamin E supplementation in broodstock feed on reproduction of Penaeus indicus (589)
Protein requirements following an optimum dietary energy to protein ratio for Penaeus Vannamei juveniles (599)
Preliminary data on semi synthetic diets for goldfish (Carassius auratus L.) larvae (607)
The use of protibel as a substitute for casein in artificial diets for larvae and juveniles of the African catfish, Clarias gariepinus (613)
Comparison of three kinds of rotifer enrichments for turbot larval culture (619)
Sea bass (Dicentrarchus labrax) weaning and ongrowing onto sevbar (623)
Mise au point d'une technique de mesure de l'ingéré chez le jeune alevin de bar (Dicentrarchus labrax) à l'aide d'iodure d'argent marqué (629)
Studies on the use of rotifers (Brachionus plicatilis) and artemia, enriched on different mixtures, as startfeed for turbot larvae (Scophthalmus maximus) (633)
CONCLUDING REMARKS (639)
TROPICAL AQUACULTURE NUTRITION
Particularités des besoins alimentaires des poissons tropicaux d'eau douce (645)
Does a digestive active bacterial flora exist in fish? (655)
The protein sparing effect of supplemental lysine in practical carp feeds (665)
Protein synthesis in grass carp, Ctenopharyngodon idella (Val.) and its relation to diet quality (673)
Constraints to the use of plant fodder as fish feed in tropical small-scale tilapia culture systems : an overview (681)
Optimisation de l'alimentation de Lates calcarifer en élevage. Essais de substitution de la farine de poisson par de la farine de cretons dans la composition de l'aliment de grossissement (691)
The effects of varying dietary phytic acid, calcium and magnesium levels on the nutrition of common carp (Cyprinus carpio) (705)
Adaptabilité de différents aliments et fertilisants aux conditions particulières des élevages d'Oreochromis niloticus en étangs dans le milieu rural ivoirien (717)
Aquaculture nutrition and feeding in developing countries : a practical approach to research and development (731)
Riboflavin requirement of fingerling red hybrid tilapia grown in seawater (743)
Evaluation of mixed feeding schedules in two Indian major carps, Catla (Catla catla) and Rohu (Labeo rohita) (153)
Effect of environmental temperature and feeding rate on the growth, food utilization and body composition of common carp (Cyprinus carpio L) fry (767)
Growth response of Tor Khudree to silkworm pupa incorporated diets (779)
Evaluation of silkworm pupae meal as dietary protein source for catfish (Heteropneustes fossilis Bloch) (785)
A preliminary study on the use of poultry offal meal as dietary protein source for the fingerling of Indian major carp Labeo rohita (Hamilton) (793)
Energy resources in "Atipa", Hoplosternum littorale. A neotropical air breathing catfish (803)
Essential fatty acid requirement of juvenile seabass (807)
Effect of thiamin, riboflavin, pantothenic acid and inositol on growth, feed efficiency and mortality of juvenile seabass (819)
CONCLUDING REMARKS (829)
INGREDIENT QUALITY AND NUTRIENT BIOAVAILABILITY
Importance of nutrition research on the development of the US catfish industry (833)
Nutrition requirements of fish : revised NRC bulletin (839)
Freshness of fish for fish meal - Effect on growth of salmon (843)
Growth rate of Atlantic salmon (Salmo salar) fed fish meal with varying content of water soluble protein (847)
Digestibility of native starches of various botanical origins by rainbow trout (Oncorhynchus mykiss) (857)
Lysine requirement for Atlantic salmon (Salmo salar) fingerlings (867)
Zinc requirement of Atlantic salmon (Salmo salar) fry, during start feeding (873)
Effect of graded levels of dietary ascorbic acid on mobilization of calcium and phospborus in rainbow trout, Salmo gairdnerii (883)
Effects of dietary fatty acids Ca salt on performance and body composition of juvenile sea-bass (D. labrax L.) (891)
Effect of replacement of dietary inorganic zinc by zinc/methionine on vegetable and animal protein utilization by rainbow trout (897)
Effet de l'incorporation d'une dose élevée de chlorure de sodium dans l'aliment sur le transfert en mer de la truite fario (Salmo trutta) (903)
Partial substitution of fishmeal with different meat meal products in diets for seabream (Sparus aurata) (907)
Evaluation of four semi-purified test diets for juvenile Atlantic salmon (Salmo salar) (913)
Nutritive utilization of earthworm protein by fingerling rainbow trout (Oncorhynchus mykiss) (923)
Nutritive evaluation of sunflower meal as a protein source for rainbow trout (927)
Effect of cooking/expansion of three legume seeds on growth and food utilization by rainbow trout (933)
A comparative study of the nutritive utilization of dietary carbohydrates by eel and trout (939)
Utilisation de levures dans l'alimentation du juvénile de bar (Dicentrarchus labrax) (945)
CONCLUDING REMARKS (949)
LIST OF PARTICIPANTS (953)
Alle Rechte vorbehalten!
---
FIBERI - Fisch(erei) Beratung Ritter 2022