FIBERI - Fisch(erei) Beratung Ritter 2018
---
Alle nicht-pflichtigen Inhalte dieser Internet-Präsenz sind unverbindlich und ohne Gewähr!  (
weitere INFO!
)
Pond Fisheries (Martyshev, 1973/1983)
F.G. Martyshev
Pond Fisheries
(Übersetzt aus dem Russischen, Original 1973)
A.A. Balkeema, Rotterdam, 1983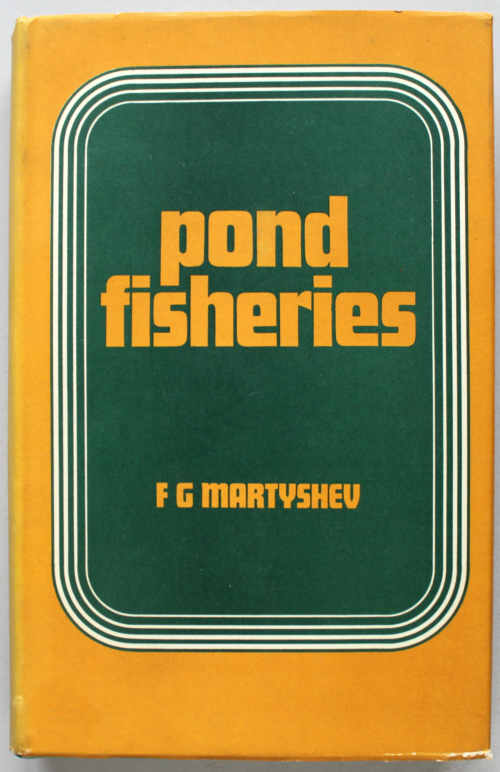 Ein russisches Grundlagenwerk von 1973 und 1983 übersetzt ins Englische.
INHALT:
PREFACE (v)

PART I


INTRODUCTION (3)
I. TYPES, SYSTEMS, ROTATIONS, AND FORMS OF POND FISHERIES (14)

II. BIOLOGICAL AND TECHNICAL BASIS OF WARMWATER CARP CULTURE (18)

III. CONSTRUCTION OF FISH PONDS (28)

IV. PRODUCTION PROCESSES IN A WARM-WATER AND FULL-SYSTEM CARP FARM WITH TWO-YEAR ROTATION (43)

V. PARTIAL SYSTEM: ONE-YEAR PRODUCTION FISH FARMS. USE OF LAGOONS (ESTUARIES) AND BAYS FOR ONE-YEAR PRODUCTION (109)

VI. PRODUCTION PROCESSES IN FULL-SYSTEM AND PARTIAL-SYSTEM CARP FARMS WITH THREE-YEAR ROTATION (113)
PART II
MIXED STOCKING, PLANTING OF ADDITIONAL FISHES, AND POLYCULTURE AT CARP FARMS (119)
VII. MIXED STOCKING (120)

VIII. ADDITIONAL FISHES AND POLYCULTURE (124)

IX. PRODUCTION PROCESSES IN THE CULTURE OF GRASS AND SILVER CARP AND BIGHEAD IN PONDS (163)

X. MELIORATION OF FISH PONDS (184)
INTENSIVE TYPE OF CARP CULTURE (211)

XI. ARTIFICIAL FEEDS OF CARP (212)

XII. MANURING OF FISH PONDS (277)
Chemical Fertilizers (280)
Organic Manures (292)
Green Manures (296)
Organo-chemical Manures (300)
XIII. COMPLEX INTENSIFICATION (305)

XIV. SPECIAL TYPES OF WARM-WATER FISH CULTURE (312)
Mixed Rice-Fish Farming (312)
Mixed Carp-Duck Farming (323)
Fish Culture in Peat Quarries (330)
Fish Culture in Irrigation Networks and Multi-purpose Reservoirs (335)
XV. COLD-WATER (TROUT) FARMING (345)

XVI. FISH BREEDING IN POND PISCICULTURE (395)

XVII. TRANSPORT OF LIVE FISH (432)

LIST OF BASIC REFERENCES (453)
Alle Rechte vorbehalten!
---
FIBERI - Fisch(erei) Beratung Ritter 2018